This website uses cookies. To read more about them, click 'cookies stored'. To accept our cookies, click the check box then press 'Continue'.
Borders Family History Society

Our Archive and Search Room is open from 10am - 4pm on Tuesdays and Thursdays - no appointment needed. Keep up to date via our Facebook page and Twitter.
Caddonfoot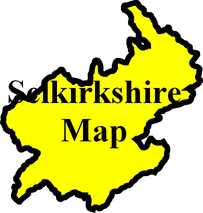 The quoad sacra Parish of Caddonfoot which comprises part of the former Parishes of Galashiels, Innerleithen, Selkirk, Stow and Yarrow is bounded on the north by the County of Midlothian, on the east by the Parish of Galashiels, on the south by the Parishes of Selkirk and Yarrow and on the west by the Parishes of Innerleithen and Traquair.

Previously partly in the County of Midlothian and partly in the County of Peebles, Caddonfoot existed as an administrative unit from 1898 to 1975. The ecclesiastical parish of Caddonfoot is now linked with Galashiels Trinity

Caddonfoot Monumental Inscriptions by Selkirk Genealogy.
CD Hall's History of Galashiels.

See our sales list for full details and cost of postage.

Caddonfoot Church
Volumes available for consultation within our Archive
Galashiels; - A Modern History by Galashiels History Committee and Ettrick and Lauderdale Council - Galashiels 1983.
The Story of Peel Hospital by Trevor Austin - Selkirk 1996.
Rutherford's Southern Counties Register and Directory 1867.
County Directory of Scotland 1912 - Borders Towns and Villages.
CD Berwickshire, Banffshire, Peeblesshire and Selkirkshire Trades Directory 1837.
Magazine Articles
Please note that the heading Author includes persons who have compiled or transcribed records; and that the topics indexed, and the synopses are subjective opinions.
See the Sales List to buy copies of the magazines containing articles in which you're interested.
| Title | Synopsis | Size Description | Issue No | Author |
| --- | --- | --- | --- | --- |
| From Cowal to the Borders | The agricultural migration of workers and the history of the Whyte Family. | 2 pages or more | 7 | Donald Whyte |
| Laidlawstiel, Clovenfords | This is history bought to life with Walter Scott, William Wordsworth and Prime Minister Gladstone. For anyone interested in Clovenfords you must read this. | 2 pages or more | 37 | Margaret Lawson |

Map of Caddonfoot from UK Great Britain, Ordnance Survey one-inch to the mile (1:63,360), 'Hills' edition, 1885-1903
by kind permission of the National Library of Scotland.
Use the control at the top left of the map to zoom in or out and drag the map left, right, up, or down as you wish.

Map of Caddonfoot from UK Ordnance Survey Historical Maps from 1919-1947
by kind permission of the National Library of Scotland.
Use the control at the top left of the map to zoom in or out and drag the map left, right, up, or down as you wish.
Other Sources
Two Centuries of Borders Church Life by J Tait, Kelso, 1891.
Caddonfoot Subscription School Log Book 1870-1971, ref: S/ED/2 10.
Caddonfoot Public School Log Book 1890 to 1912, ref: S/ED/2/8.
Caddonfoot School Minute Books, cash book, ledger 1873 to 1919, ref: S/ED/1/6-15.
Hawick Archaeological Society
1872 Clovenfords - discovery of ancient remains.
Berwickshire Naturalists' Club
Vol 8 Clovenford vineries visited.
Vol 8 Caddonlee School and The Nest.
The Southern Annual
Charming Caddonfoot - historic Tweedside Parish by William H Thomson (available in Society Archives).
1952 The Gold of Fairnilee by Madge Elder (available in Society Archives).
Websites
Caddonfoot War Memorial (http://www.sbwm.co.uk/caddonfoot.html - Last time we accessed this site, it had malware - use this at your own risk) showing the names of those who died in the Two World Wars.
Vision of Britain shows a detailed map of the parish and contains other information.
RCHAMS website Scotland's Places contains details of
Medical Officer's of Health Reports 1891.
Population
The population has been recorded as follows: 1867 - 693.
Selkirkshire map