This website uses cookies. To read more about them, click 'cookies stored'. To accept our cookies, click the check box then press 'Continue'.
Borders Family History Society

Our Archive and Search Room is open every Tuesday, Thursday and Friday from 10am - 4pm and by confirmed appointment at other times.
Yarrow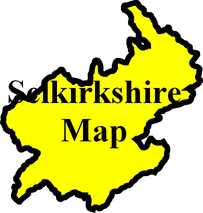 Yarrow Parish is situated in east Selkirkshire being bounded on the north by the Parishes of Traquair in Peeblesshire and Caddonfoot, on the east by the Parishes of Selkirk and Kirkhope, on the south by the Parish of Ettrick and the County of Dumfries and on the west by the Parishes of Tweedsmuir, Drumelzier, Lyne and Meggat, Manor and Peebles all in Peeblesshire. Yarrow is now part of a combined parish that includes Ettrick & Kirkhope

Old Parish Birth Records exist from 1691 to 1854.

Marriage Records exist from 1691 to 1704 and from 1724 to 1824.
Death records exist from 1731 to 1732 and from 1759 to 1852.

1841 census Yarrow.
1851 census Yarrow.
1861 census Yarrow.
Yarrow Burials 1791 to 1837 by Nigel Hardie.
CD Yarrow Memorial Inscriptions by Selkirk Antiquarians - contains:

militia list
Yarrow School admission Register 1874
War Memorial transcription.

Yarrow Parish Church
See our sales list for full details and cost of postage.
Volumes available for consultation within our Archive
Memorial Inscriptions Yarrow Churchyard by Hawick Archaeological Society 1933.
Old Yarrow and Ettrick by Alex F Young published by Stenlake Publishing.
The Churches and Graveyards of Roxburghshire by Dr. G. A. C. Binnie 2001.
Rutherford's Southern Counties Register and Directory 1867.
County Directory of Scotland 1912 - Borders Towns and Villages.
CD Berwickshire, Banffshire, Peeblesshire and Selkirkshire Trades Directory 1837.
Magazine Articles
Please note that the heading Author includes persons who have compiled or transcribed records; and that the topics indexed, and the synopses are subjective opinions.
See the Sales List to buy copies of the magazines containing articles in which you're interested.
| Title | Synopsis | Size Description | Issue No | Author |
| --- | --- | --- | --- | --- |
| Know your Parish: Yarrow | A journey down through the Yarrow valley from top to bottom. | 1 page or more | 32 | Audrey Mitchell |
| An Elephantine trip to St Mary's Loch | George Reavly in his history of Galashiels notes that fifty years ago not a gig could be got to hire. One of the largest trips that ever left Galashiels propelled by horse power. On the trip to St Mary's Loch. | 2 pages or more | 22 | K. MsRae |
| William Welsh - The Dowie Dens o' Yarrow | Some notes on William Welsh author of a book of poetry in 1838 and on the origins of the Ballad 'The Dowie Dens of Yarrow'. | 1 page or more | 81 | Ronald Morrison |
| A History of the Brydons | For some hundreds of years there have been Brydons in the Borders. From Gilston, Broadmeadows, and overseas. | 2 pages or more | 7 | Mrs Joan Scott Stewart |
| The mole catchers of Lilliesleaf | The story of a mole and rabbit catcher in the Lilliesleaf area. | 1 page or more | 18 | Mrs S.J. Hodgkinson |
| A Canadian Connection | Copies of letters sent from Canada in 1864 - they make very interesting reading. | 2 pages or more | 25 | Jenifer Payne |
| Why couldn't he have been called Ebenezer ? | Article examining which John Little is the author's ancestor. | 4 pages or more | 42 | Jessie Hislop |



Map of Yarrow from Quarter-inch to the mile, Scotland, 1921-1923 or One-inch to the mile, Popular edition, Scotland, 1920-1930
by kind permission of the National Library of Scotland.
Use the control at the top left of the map to zoom in or out and drag the map left, right, up, or down as you wish.
20 Most Common Surnames
The 20 most common surnames on gravestones recorded by us in the Yarrow monumental inscriptions volume are (number of gravestones in brackets): Scott (47), Anderson (22), Hogg (20), Laidlaw (18), Turnbull (16), Mitchell (16), Nichol (13), Little (12), Brown (12), Johnstone (12), Renwick (11), Brydon (10), Amos (10), Dalgleish (10), Goodfellow (9), Beattie (9), Baptie (9), Henderson (9), Douglas (8), Wilson (8).
Other Sources
Reminiscences of Yarrow by James Russell - 1886.
Ettrick and Yarrow - a guide with songs and ballads by William Angus - 1894.
Yarrow in History, Literature and Romance by Rev. W Steven - 1917 - Galashiels.
Two Centuries of Borders Church Life by J Tait Kelso 1891.
The Statistical Accounts of Scotland compiled initially between 1791 and 1799, with a subsequent edition between 1834 and 1845 are a valuable record of the geography, history, economy, people and customs recorded by local ministers. You'll need to search for the parish name.
Yarrow School Log Book 1892-1944 ref; S/ED/2/39.
Yarrowford School Log Book 1884-1936 ref S/ED/2/40.
Gilmanscleugh School Log Book 1920 to 1946 ref; S/ED/2.19.
The National Archives of Scotland
Yarrow and Meggat Free Church (Ref CH3/1573)
Baptismal Register 1843 to 1873.
Kirk Session Minutes 1846 to1893.
Deacons Court Minutes 1846 to1883.
Collection Book 1845 to1894.
Other post 1855 records.
Hawick Archaeological Society
1932 Yarrow Kirk.
1933 Monumental Inscriptions.
1953 Links with Scott in Ettrick and Yarrow.
1964 St. Mary's Kirkyard, Yarrow and Ettrick - place names.
1964 St. Mary's Kirkyard Yarrow and Ettrick - name index.
1964 St. Mary's Kirkyard - monumental inscriptions.
Berwickshire Naturalists' Club
Vol. 10 Yarrow described by Scott.
Vol. 10 Note by J Hardy.
Vol. 10 The Liberalis Stone.
Vol. 10 Yarrow Church.
Vols. 19 and 38 Yarrow visited.
Vol. 23 Yarrowford - its witch.
Vol. 28 Yarrow Kirk.
Vol. 30 Liberalis Stones, Dowy Dens, Hart Leap and Whitehope visited.
Vol. 32 The Standing stones of Yarrow by the Rev H. H. Boyd.
The Southern Annual
1951 - Lord Cockburn in Yarrow. (available in Society Archives).
1951 - Collies at Yarrow Kirk. (available in Society Archives).
1957 - Dr. Shaw A Yarrow Worthy by E.M. Reekie (available in Society Archives).
1961 - A local worthy - James Tait of Yarrow Valley (available in Society Archives).
Websites
A list of surnames in Yarrow Churchyard recorded in the 1933 transcription by the Hawick Archaeological Society is set out by UK and Ireland Genealogy.
Ettrick and Yarrow Valleys website .
A history of Yarrow Church ; Hunter Boa's website.
RCHAMS website Scotland's Placescontains details of:
Farm Horse tax 1797-1798.
Medical Officer's of Health Reports 1891.
Place and Farm names in Census Records
1841 census: Yarrow Peelburn Head, Peel, Ashisteel, Elybank, Howfoord, Birks, Shootenlees, St.Marys Cottage, Crosscleuch, Berrybush, Bowerhope, Adinhope, Altrive Lake, Craig Douglas, Dryhope, Craighope, Blackhouse, Muttonhall, Kirkstead, Gordon Inn, Mt.Benger, Sundhope, Sundhopehead, Sundhopeburn, Cutkerwood, Catslacknow, Yarrow Feu, Sandbed, Ladhope, Catslackburn, Whitehope, Whitefield, Hennel, Linfoot, East Deuchar, West Deuchar, Tinnis, Old Lewinshope, Lewinshope, Haningshaw, Yarrowford Village, Newbrough, Gilmanscleugh, Singly, Newhouse, Kirkhope, Ettrickbridge Village, Woodend, Nether Delorain Upper Delorain, Drycleughlee, Stenhopefoot, Shiringscleugh, East Redfordgreen, West Redfordgreen, Goldisgreen, Dodhead, Whitelshiell, Hydhope, Shaws, Helmburn, Howford, Fanns, Langhope, Lower Huntly, Whithillbrea, Cathaugh, Huntly, Huttlerburn, Fauldshope, Brockhill.
1851 census: Yarrow Peelburnhead, Ashisteel, Elibank, Old Howford, Eldinhope, Altrieve, Hart Leap, Berrybush, Crosscleugh, St.Marys Ct., Bourhop, Dryhop, Kirkstead, Mutton Hall, Craig Douglas, Whitehope, Whitefield, Catslackburn, Ladhope, Sundhope, Catslacknow Village, Cutkerwood, Mt.Benger, Birks, Hennel, Deuchar, Tinnis, Lewinshope, Old Lewinshope, Hangingshaw, Yarrowford Village, East Kershope, West Kershope, Hyndhope, Newburgh, Nether Deolraine, Over Deolraine, Stenhopefoot, Drycleuchlee, Sherengscleuch, Redfordgreen, Newousehouse, Kirkhope, Rabbit Hall, Singlee, Goldiesgreen, Gilmanscleuch, Inch, Shaws, Dodhead, Whithillshiel, Hillend, Ettrickbridge Village, Helmburn, Howford, Woodend, Brockhill, Fauldshope, Huntly, Hutlerburn, Cathaugh, Whithillbrae, Fanns, Langhope.
1861 census: Yarrow, Mountbenger, Craig of Douglas, Blackhouse, Muttonhall, Dryhope, Kirkstead, Bowehope, Crooscleugh, Berrybush, Hartleap ,Altrieve, Eldinhope, Gordon Arms, Scar Neuk, Catslackburn, Feus, Sandbed, The Plantain, Greenwells, Carleton, Sunny Bank, Town Head, Sundhope, Ladhope, Whitehope, Warrior's Rest, Hennel, Lewinshope, Glengaber, Yarowford Village, Haningshaw, Tinnis, Duchermill, Birks, East Kershope, West Kershope, Howford, Elibank, Ashiesteel, Peel.
Population;
The population has been recorded as follows:
1755 - 1180
1793 - 1230
1801 - 1216
1811 - 1225
1831 - 1221
1841 - 1264
1851 - 1294
1861 - 643.