This website uses cookies. To read more about them, click 'cookies stored'. To accept our cookies, click the check box then press 'Continue'.
Borders Family History Society

Our Archive and Search Room is open for research by appointment only. Please use the Contacts page, selecting the option Archive Appointment Request to arrange your visit. Keep up to date via our Facebook page and Twitter.
Traquair
Traquair Parish is situated in the west of Peeblesshire being bounded on the north by the Parish of Innerleithen, on the east and south by the Parish of Yarrow in Selkirkshire and on the west by the Parish of Peebles. In 2000 it became part of the Parish of Innerleithen, Traquair and Walkerburn.

Traquair House is the oldest inhabited house in Scotland and the lairds were long time supporters of the Stewart Monarchy.

Old Parish Records cover the periods:

Births: - 1694 to 1854. (Mothers' names are rarely recorded)
Marriages: - 1695 to 1854.
There are no Death records.

Traquair Kirk
1841 census Traquair
1851 census Traquair
1861 census Traquair
CD Traquair and Kailzie Vol 1 Peeblesshire Monumental Inscriptions (includes Militia List, School Records 1872 - 1876, War Memorial transcription. list of ministers and maps of 1859)
Parish of Traquair Deaths 1818-1854 by Nigel Hardie
See our sales list for full details and cost of postage.
Volumes available for consultation within our Archive
A family life revealed - the Stuarts of Traquair 1491 -1875 by Catherine Maxwell-Stuart
County Directory of Scotland 1912 - Borders Towns and Villages
Innerleithen and Traquair - Ancient and Modern by H Anderson
Old Innerleithen, Walkerburn and Traquair by Alex. F Young published by Stenlake Publishing Ltd
Pre 1855 Monumental Inscriptions of Peeblesshire by S.A. Scott published by Scottish Genealogical Society 1971
Rutherford's Southern Counties Register and Directory 1867
School admissions: Traquair, Glen and Kirkburn - loose leaf print-out
Traquair by Catherine Maxwell Stuart
Traquair House - An Historical Survey by Stuart P Maxwell
Magazine Articles
Please note that the heading Author includes persons who have compiled or transcribed records; and that the topics indexed, and the synopses are subjective opinions.
See the Sales List to buy copies of the magazines containing articles in which you're interested.
| Title | Synopsis | Size Description | Issue No | Author |
| --- | --- | --- | --- | --- |
| The poor, crime and punishment,and the power of the Kirk in the Borders, 17th & 18th Centuries | When paupers died, the contents of their houses were sold by public roup. This is an account of one sale and the strength of the Kirk. | 2 pages or more | 31 | M. C. Lawson |
| Shillinglaw Walls | Shillinglaw Tower not far from Traquair; it is not only a heap of stones - an interesting tale. | 2 pages or more | 38 | Jean Shillinglaw Ridley |



Map of Traquair from Quarter-inch to the mile, Scotland, 1921-1923 or One-inch to the mile, Popular edition, Scotland, 1920-1930
by kind permission of the National Library of Scotland.
Use the control at the top left of the map to zoom in or out and drag the map left, right, up, or down as you wish.
20 Most Common Surnames
The 20 most common surnames on gravestones recorded by us in the Traquair and Kailzie monumental inscriptions volume are (number of gravestones in brackets): SCOTT (17), BROWN (14), DALGLEISH (10), ANDERSON (10), TENNANT (8), WILSON (8), NICOL (8), TAIT (8), BRODIE (7), BALLANTYNE (7), JACKSON (6), SMITH (6), BELL (5), MELROSE (5), PATERSON (5), MILLER (5), DOUGLAS (5), LITTLE (5), HOPE (5), WILLIAMSON (4).
Other Sources
The Buildings of Scotland - Borders, Cruft, Dunbar & Fawcett, Yale University Press, London 2006
Reminiscences of Innerleithen and Traquair by T Dobson - Innerleithen 1896
The Cleikum being interesting reminiscences of Old Innerleithen by J.A. Anderson - Galashiels 1933
Innerleithen and Traquair , Ancient and Modern by H Anderson - Bognor Regis 1984
The Statistical Accounts of Scotland compiled initially between 1791 and 1799, with a subsequent edition between 1834 and 1845 are a valuable record of the geography, history, economy, people and customs recorded by local ministers. You'll need to search for the parish name
School Records
Poor Records
Traquair Parish Council Register of Guardians, 1913-1923; ref: P/PR/25
Traquair Parish Council Minute Book, 1915-Jul 1923; ref: P/PR/26
Parish of Traquair Parochial Assessment Roll, 1923-1927; ref: P/PR/27
Traquair Parish Council Minute Book, 1923-1930; ref P/PR/28
Parochial Board of Traquair Letter Book, 1890-1903; ref: SBA/360/86
Parochial Board of Traquair Letter Book, 1903-1926; ref: SBA/360/87
Parochial Board of Traquair Letter Book, 1916 - 1930; ref: SBA/360/98
Traquair Parish Day Cash Book, 1883-1912; ref: SBA/360/89
Traquair Parish Day Cash Book, 1912-1925; ref: SBA/360/90
Parish Council of Traquair Inspector's Day Cash Book, 1925-1930; ref: SBA/360/91
Traquair Parochial Board Pay Roll of Registered Poor and other Parishes, 1992-1925; ref: SBA/360/92
Parish Council of Traquair Receipt to Inspector's of Poor Book, 1902-1926; ref: SBA/360/93
Parish Council of Traquair Intimation of Payment book, 1909-1928; ref: SBA/360/94
Parish Council of Traquair Bank of Scotland Pass Book, 1921-1930; ref: SBA/360/95
The National Archives of Scotland
Traquair kirk session records (Ref - CH2/470)
Minutes 1694-1711, 1738-1898 - with gaps
Lists of Communicants, 1834-1839
Minutes of Parochial Board 1846-1856
Accounts 1694-1804 - with gaps
Heritors' and Kirk Session Minutes 1806-1854
Transcripts from Records of Presbytery of Peebles Dealing with Parish of Traquair, 1598-1736
Websites
A 19th century account of Traquair
Place and Farm names appearing in census records
1841 census: Traquair, Glenmead, Juniperbank, East Bold, West Bold, Haughhead, Tinelburn, Traquair Know, Traquair Riggs, Old Howford, Howford, Grieston, Slaterhall, Avenuehead, Damhead, Knowe, Damhead Shiel, Kirk House, Orchard Mains, Glen, Glen Valley, Glen Deansbanks, Glenlude, Newhall, Orchardwalls, Heilenshiel, Leverlaw, East Mains, Kailzie, West Mains, Kilzie Toll, Kirkburn, Kirk Bourn, Park Nook, Standing Stone, Cardrona.

1851 census: Traquair, Highland Shiel, Laverlaw, Kirkburn, Kailzie, Parkfoot, Kailzie West Mains, Kailzie East Mains, Cardrona, Old Howford, Slaterhall, Grieston, Avenuehead, Newhall, Glenlude, Glendean, Glen Valley, Orchard Walls, Orchard Mains, Kirkhouse, Damhead, Campshiel, Traquair Riggs, Traquair Parishen, Glenmead, Juniper Bank, West Bold, Haughhead, Tanielburn.

1861 census: Traquair, Cardrona, Kailzie Parkfoot, Kirkburn, Scot's Mill, West Kailzie Mains, Laverlaw, Highland Shiel, Parishin, Traquair Riggs Camp Shiel, Damhead Shiel, Traquair Mill, Avenuehead, Howford, Grieston, Old Howford, Damhead, Kirkhouse, Newhall, Glenlude, Glen Shiel, Glen Valley, Glen, Orchard Walls, Orchardmains, Traquair Knowe, Tanielburn, Heughhead, Bold, Glenmead, Juniperbank.
Population
The population has been recorded as follows;
1755 - 651
1801 - 613
1831 - 643
1841 - 682.
1851 - 646.
1861 - 687.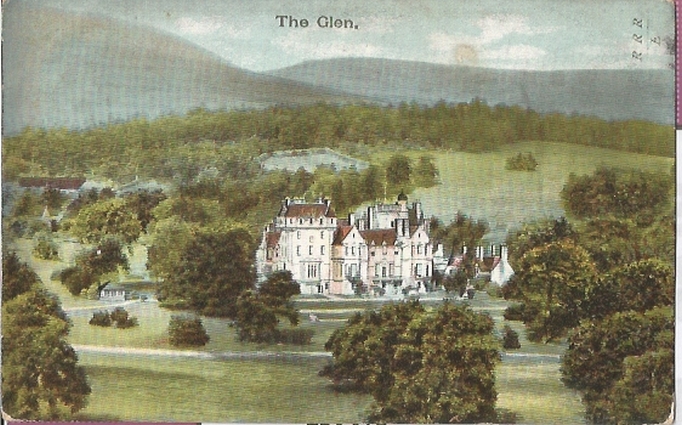 The Glen (before 1907)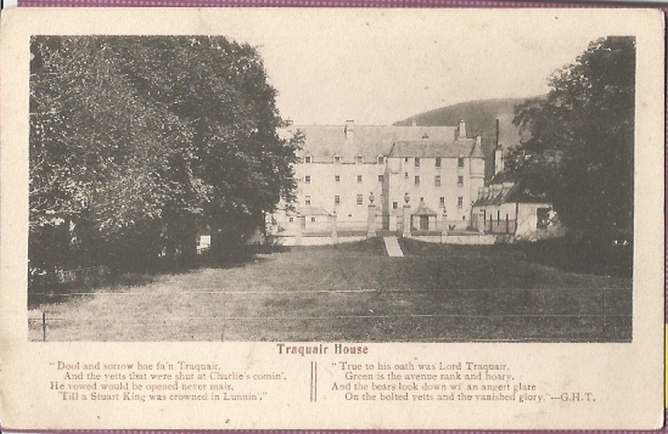 Traquair House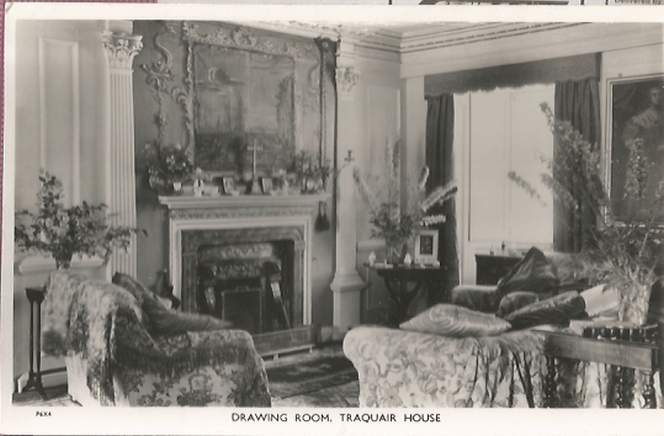 Drawing Room, Traquair House



So far as we are aware, the copyright on these pictures has expired. However, if you wish us to remove the images and you can demonstrate that you hold the copyright, please contact us.