This website uses cookies. To read more about them, click 'cookies stored'. To accept our cookies, click the check box then press 'Continue'.
Borders Family History Society

Our Archive and Search Room is open for research by appointment only. Please use the Contacts page, selecting the option Archive Appointment Request to arrange your visit. Keep up to date via our Facebook page and Twitter.
Roberton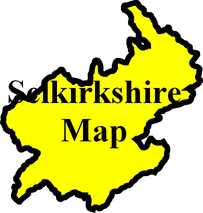 Roberton is a rural Parish partly in the County of Selkirk and partly in the County of Roxburgh. It is bounded on the north by the Parishes of Ashkirk and Wilton, on the east by the Parishes of Hawick and Teviothead all in Roxburghshire, on the south by the County of Dumfries and on the west by the Parishes of Ettrick and Kirkhope. It is now part of Hawick Teviot ecclesiastical parish.

Old Parish Records cover the periods:

Births: 1679 to 1854.
Marriages: 1679 to 1854.
Deaths: 1744 to 1801.

1841 census Roberton.
1851 census Roberton.
1861 census Roberton.

Roberton Parish Church
See our sales list for full details and cost of postage.
Volumes available for consultation within our Archive
Borthwick Wa'as by Kathleen W Stewart 1987.
Borthwick Wa'as Memorial Inscriptions by Kathleen W Stewart 1987.
Borthwick Water: two centuries of life in the parish of Roberton by Kathleen W Stewart 1991.
The Scots of Milsington by Kathleen W Stewart (5 vols.).
Rutherford's Southern Counties Register and Directory 1867.
Pigot's Directory.
County Directory.
Magazine Articles
Please note that the heading Author includes persons who have compiled or transcribed records; and that the topics indexed, and the synopses are subjective opinions.
See the Sales List to buy copies of the magazines containing articles in which you're interested.
| Title | Synopsis | Size Description | Issue No | Author |
| --- | --- | --- | --- | --- |
| The Border Archive-For Queen and County | This is a list of all the men between the ages of 18 and 45 residing in Roberton in 1807. | 2 pages or more | 10 | Robert Miller |
| The Border Archive - For Queen and County | Militia list of all men between 18 and 45 residing in Roberton in 1807. | 2 pages or more | 13 | |
| The Miller Family of Hawick, Scotland and Delaware County, New York | This Miller family who emigrated from Hawick or Roberton; they set up a farm in the Catskill mountains of New York. | 2 pages or more | 34 | C. Raymond La Fever |
| Rev. Robert Douglas, 1747-1820 The father of Galashiels | The Rev Robert Douglas, minister of Galashiels, 1747-1820, was a man of great ability and served his parishioners so well he was called 'The Father of Galashiels'. | 2 pages or more | 37 | Donald Whyte |
| Susanna Pringle's Birthday book | This Pringle tale goes from Browndeanlaw to Yetholm, London, New Brunswick and beyond-very interesting. | 4 pages or more | 16 | Maxine Flaherty |
| m Roxburghshire to Delaware County: The 19th Century Miller Letters - Part 1 | Account of letters written between 1818 and 1864 from Scotland to David Miller (1795-1883), and his wives, and relatives. David Miller was the son of Thomas Miller, a beadle of Roberton Kirk. | 4 pages or more | 64 | John W. Hoy |



Map of Roberton from Quarter-inch to the mile, Scotland, 1921-1923 or One-inch to the mile, Popular edition, Scotland, 1920-1930
by kind permission of the National Library of Scotland.
Use the control at the top left of the map to zoom in or out and drag the map left, right, up, or down as you wish.
Other sources
A list of surnames contained in the transcription of Borthwick Wa'as Churchyard carried out by Hawick Archaeological Society is available on line.
A list of surnames in the Roberton Parish Burial Ground is also available on line.
Two Centuries of Borders Church Life by J Tait Kelso 1891.
The Statistical Accounts of Scotland compiled initially between 1791 and 1799, with a subsequent edition between 1834 and 1845 are a valuable record of the geography, history, economy, people and customs recorded by local ministers. You'll need to search for the parish name.
School Records
Howspasley School Admission Registers 1875 to 1947 ref; R/ED/3/17.
Howspasley School Log Books 1875 to 1947.
Medical
Selkirkshire - Medical Inspection of Schoolchildren 1911 to 1920 ref; SBA/387/6.
Medical Officer of Health Annual Reports 1915 to 1962 ref; SBA/387/2.
School Health Administration annual reports 1928 and 1929 ref; SBA/387/5.
Military
Militia Lists for Ettrick, Galashiels Roberton, Selkirk and Yarrow 1807 and 1808 ref; D/42/6-7.
Return of men between the ages of 18 and 45 in the County of Selkirk Ref: D/42/16/3.
Pay Lists of the Selkirkshire Yeomanry Cavalry 1809 and 1812 ref; D/42/16/7 and 13.
Enrolment Book of the Second Selkirkshire (Ettrick Forrest) Rifle Volunteer Corps 1860 to 1904 ref; SC/s/12/36/1.
Selkirkshire Lieutenancy Records
Militia Lists and muster rolls of the first Selkirkshire Rifle Volunteers 1807 to 1831.
Deputy Lieutenant's Minute Books 1797 to 1831.
Volunteer Returns 1803 to 1903.
Letter books 1804 to 1974 - ref; S/LR/1/1-5.
The Scottish National Archives, Edinburgh
Roberton kirk session records (Ref - CH2/376)
Minutes and Cash 1734-1772
Minutes 1831-1963
Accounts and Heritors' Minutes 1829-1872
Roberton United Presbyterian Church (Ref - CH3/636)
Births 1845 to 1935.
Minutes and Cash 1734 to1772.
Minutes 1831 to1963.
Accounts and Heritors' Minutes 1829 to1872 - ref; CH2/376.
Hawick Archaeological Society
1909 Reminiscences of 60 years ago.
1910 More reminiscences of 60 years ago.
1914 Commonwealth cavalry skirmish.
1924 Roberton parish in olden times.
1938 Borthwick Wa's - a lonely Border churchyard.
1947 Roberton and Hassendean kirk bells.
1951 Deanburnhaugh - a lapsed Border village.
1955 Roberton kirk relics.
1955 Some place names of the past and present.
1958 Camp called Africa.
1959 Communicants 1650,
1961 Find at Camp Burn earthwork.
1966 Relics.
1972 Roberton; Borthwick Wa' tombstone inscriptions.
1991 Communicants 1650. In "Roberton - making of a parish".
1991 Roberton - the making of a parish.
1993 Willie's drowned in Borthwick.
1993 Borthwick Mains salmon - Pictish symbol stone.
Websites
A 19th century account of Roberton
RCHAMS websiteScotland's Places contains details of
Farm Horse tax 1797-1798.
Medical Officer's of Health Reports 1891.
Place and Farm names in Census Records
1841 census: Roberton, Ballendean, Alemoor, Parkhead, Borthwickbrae, Greenbanks, Howcleuch, Scaurnook, Roberton Woodfoot, Greenbanks, Hoscoatshiel, Hennywoody, Craik, Craik Shiel, Meadshaw, Philope, Deanburnhaugh Village, Mabonlaw, Borthwickshiels, Whitecleuchside, Harden & Hardenburn, Highchesters, Todshawhaugh, Whithope, Todshawhill, Chapelhill, Branxholme, Parkhill, Chisholme, Woodburn, Milsington, Broadlie, Muslie, Eildrige, Howpasley, Coom, Craikhope, Wolfcleughead, Outterside, Girnwood.
1851 census: Roberton, Borthwickbrae Haugh, Burnfoot, Alemoor, Greenbanks, Howcleuch Shiel, Roberton Woodfoot, Scaurnook, Hoscoat, Borthwickshiels, Ballindean, Meadshaw, Philope, Craik, Craikshiels, Henwoody, Deanburnhaugh Village, Mabonlaw, Whitecleuchside, Harden, Highchesters, Todsahwhaugh, Todshawhill, Whithope, East Branxholm, West Branxholme, Parkhill, Coom, Chisholme, Woodburn, Craikhope, Wolfcleughhead, Howpasley, Eildridge, Outterside, Girnwood, Muslee, Milsington, Shankfoot, Whapshaw.
1861 census: Greenbankhaugh, Scarnook, Glenburn, Borthwick Shiels, Howcleuch, Greenbanks, East Alemoor, West Alemoor, Borthwickbrae, Deanburnhaugh Village, Meadshaw, Craik, Henwoodie, Hoscote, Harden, Highchester, Todshawhaugh, Whithope, Chapelhill, East Branxholm, West Branxholm Loch, Parkhill, Woodburn, Milsington, Howplasley, Wolfcleuchhead, Craickhope, Eildrigg, Broadlee, Muselee, Girnwood, Whapshaw.
Population;
The population has been recorded as follows:
1801 - 618
1841 - 757
1851 - 670
1861 - 640
1881 - 567.