This website uses cookies. To read more about them, click 'cookies stored'. To accept our cookies, click the check box then press 'Continue'.
Borders Family History Society

Our Archive and Search Room is open for research by appointment only. Please use the Contacts page, selecting the option Archive Appointment Request to arrange your visit. Keep up to date via our Facebook page and Twitter.
Jedburgh
The old market town of Jedburgh is in south central Roxburghshire and is the first town that travelers encounter as they come into Scotland. The Augustinian Abbey - one of the four Border Abbeys - is a prominent presence in the town. The surrounding parishes are: Ancrum to the north, Crailing on the north-east, Oxnam on the east, Edgerston to the south, Southdean & Abbotrule to the south-west and Hobkirk and Bedrule on the west.

The modern parish of Jedburgh also includes Edgerston.

During a vist to Jedburgh in 1566, Mary, Queen of Scots visted James, Earl of Bothwell who was lying seriously wounded in Hermitage Castle. She was nursed in Mary, Queen of Scots House after this adventure. In 1823 a new gaol was built on the site of the medieval castle. Built in 1820, it is the only remaining example left in Scotland of a Howard Reform prison and is now a museum.

One of Hutton's Unconformities can be found at Inchbonny to the south of Jedburgh.

Old Parish Records cover the periods:

Births: 1634 to 1854.
Marriages: 1629 to 1854.
Deaths: 1652 (one entry)and 1758 to 1854.

Jedburgh Parish Church
1841 census Jedburgh.
1851 census Jedburgh.
1861 census Jedburgh.
CD-ROM Borders Poor Law Records Jedburgh Parish 1852 to 1874.
CD-ROM Borders Poor Law Records Jedburgh Parish 1875 to 1893.
Jedburgh Prison Records Index.
Gravestone inscriptions at Jedburgh Abbey have been transcribed but not yet published.
See our sales list for full details and cost of postage.
Volumes available for consultation within our Archive
The Churches and Graveyards of Roxburghshire by Dr. G.A.C. Binnie 2001.
Private Transcription of the Gravestones of Jedburgh Abbey.
Rutherford's Southern Counties Register and Directory 1867.
County Directory of Scotland 1912 - Borders Towns and Villages.
Jedburgh 1823 Pigot's Directory.
Jethard Worthies by Thomas Smail Edinburgh 2001.
People and Horses of the Jedburgh Hunt in the Twentieth Century by Charles A Douglas.
Ruleswater and its People by George Tancred of Wemyss 1907.
CD-ROM Pigot's 1837 Directory of Berwickshire and Roxburghshire.
CD-ROM Land Ownership Commission Report 1872 -1873.
Magazine Articles;
Please note that the heading Author includes persons who have compiled or transcribed records; and that the topics indexed, and the synopses are subjective opinions.
See the Sales List to buy copies of the magazines containing articles in which you're interested.
| Title | Synopsis | Size Description | Issue No | Author |
| --- | --- | --- | --- | --- |
| William Lorrain-Borders Schoolmaster | During the last war attics were cleared of paper and, from an attic in Jedburgh there appeared a collection of papers concerning the Rector of Jedburgh Grammar School, William Lorrain. | less than 1 page | 27 | Audrey Mitchell |
| Records of a Noble Life - Rev Archibald William Murray 1811 to 1892 | Born in Jedburgh, he was a missionary to Samoa and New Guinea, afterwards living in Australia till his death. | 3 pages or more | 58 | Ronald Morrison |
| Jedburgh Place Names | Notes on a book 'Jedburgh Place Names' put together by Society member, Norrie McLeish, from articles written by George Watson. | less than 1 page | 81 | |
| The Silk Mill Jedburgh: The Story of the North British Rayon Factory 1928 -1956 | A review of the book of the same title written by Norrie McLeish. | less than 1 page | 92 | |
| Castlewood Cemetery Jedburgh | A note on the stones at Castlewood Cemetery, Jedburgh, and the transcribing of them. | less than 1 page | 95 | |
| Great grandfather's Clock | Report on the history of a clock from Jedburgh from about the beginning of the 19th century and its subsequent history. | less than 1 page | 92 | Joan Gooding |
| Swan Family of Jedburgh and Kelso | Recollections by the author's grandmother of life in Jedburgh and Kelso in the early twentieth century. | less than 1 page | 94 | John Falconer Swan |
| Australian deaths recorded in Hawick Advertiser part 2 1874-1890 | Deaths in the Hawick Advertiser; it also covers other parts of the Borders. | 4 pages or more | 37 | Marjorie Gavin |
| Maps | Brief notes about Borders maps available from the Society, and on the Internet. | 1 page or more | 43 | Peter Munro |
| Totties in Sweden | Note about Thomas Tottie, from Jedburgh, born in 1664, a tobacco manufacturer, extracted from T A Fischer's The Scots in Sweden (Edinburgh, 1907). | less than 1 page | 60 | |
| Death of Mr Alexander Jeffrey, Solicitor | Obituary that originally appeared in the Jedburgh Gazette and Border Courier in 1874. Alexander Jeffrey was a well-known Jedburgh antiquarian and historian. | 2 pages or more | 62 | |
| Jedburgh Border Games, 1919 | Cannon-fire at 6am signalled the start of the Games. Has notes of winners of various events. | 1 page or more | 63 | John Murray |
| Jethart Jock | A follow up to article in magazine no 86 regarding the identity of Jethart Jock. | 1 page or more | 91 | |
| Old Emigrant's Diaries | Extract from diary of Margaret Charteris, wife of Thomas Hinshelwood, emigrant from Jedburgh, ship 'Nebo', to Queensland, in 1883. | 4 pages or more | 40 | Jane Gibson |
| Border Murders | This is a stroll around the Borders looking into, with some depth, the murders in the 1800s. | 2 pages or more | 32 | Norrie Mcleish |
| James Stevenson, Procurator Fiscal Jedburgh | Report on notes and papers received relating to the life of James Stevenson for approximately 60 years from 1827 , Procurator Fiscal in Jedburgh. | less than 1 page | 92 | |
| The Parish of Langlands | The parish of Langlands and the history of old leper hospital at Rutherford. Also the history of Langton that was absorbed into Wilton. | 3 pages or more | 35 | Michael Langlands |
| Rev. Robert Douglas, 1747-1820 The father of Galashiels | The Rev Robert Douglas, minister of Galashiels, 1747-1820, was a man of great ability and served his parishioners so well he was called 'The Father of Galashiels'. | 2 pages or more | 37 | Donald Whyte |
| Thomas Davidson (1838-1870), Scottish poet | Some notes on the life of Thomas Davidson, poet, born in Jedburgh. | 2 pages or more | 85 | Nick Hide |
| Newspapers published in the Borders | Border newspapers published in the Borders, 65 in total. | 2 pages or more | 5 | Peter Elliot |
| James Veitch - Border Astronomer | Short extract of a talk given by Bill Veitch to the Society on 15 May 1994. | less than 1 page | 26 | Bill Veitch |
| From the Scottish Borders to South Australia | An account of the lives of William Oliver and his wife Elizabeth Turnbull, who were married at Jedburgh in 1833 who emigrated to South Australia, their family and subsequent life. Contains much genealogy and notes on the Oliver DNA project. | 5 pages or more | 78 | Ruth Oliver |
| The Olivers of Jed Valley | A History of the Olivers of the Jed Valley tracing their history from the earliest of times with reference to some of the more famous and infamous. | 6 pages or more | 85 | Norrie McLeish |
| Family History Records | An archivist from the Heritage Hub in Hawick discusses a range of records that can be used to provide a fuller picture of our ancestors. | 5 pages or more | 70 | Juline Baird |
| The Chisholms: Highland Names in the Borders? | This is not just about the Chisholms, it delves into place names in the Borders, why they changed their names and the Highland connections. | 4 pages or more | 28 | Michael Robson |
| James Watson (Author and Historian of Jedburgh Abbey) | Account of the life of James Watson, weaver, grocer, poet and writer of Jedburgh, the author's great grandfather, his descendants, and emigration to USA and Canada. | 10 pages or more | 68 | Rachel (Thomson) Falldien |
| Snowstorm in the Cheviots | A young shepherd gets lost in the snow and is frozen to death. There's also a specification for shepherds' boots. | 2 pages or more | 69 | Jean Fleming |
| New Collections at the Heritage Hub | County council records, diaries & estate papers were identified amongst the backlog of un-catalogued material at the Scottish Borders Archive. | 4 pages or more | 69 | Juline Baird |
| Convicts Transported to Western Australia in 1858 aboard the 'Edwin Fox' | A list of Scottish convicts transported to Australia on the 'Edwin Fox'. Reprinted from Bedfordshire Family History Society Journal. | 2 pages or more | 70 | Lynn Manning |



Map of Jedburgh from Quarter-inch to the mile, Scotland, 1921-1923 or One-inch to the mile, Popular edition, Scotland, 1920-1930
by kind permission of the National Library of Scotland.
Use the control at the top left of the map to zoom in or out and drag the map left, right, up, or down as you wish.
20 Most Common Surnames
The 20 most common surnames on gravestones recorded by us in the Jedburgh Castlewood & Galahill cemetery monumental inscriptions volume are (number of gravestones in brackets): Scott (121), Turnbull (80), Thomson (63), Oliver (58), Douglas (52), Young (49), Brown (46), Henderson (42), Elliot (40), Bell (38), Smith (38), Laidlaw (37), Hogg (35), Anderson (34), Robson (32), Rutherford (32), Hall (31), Wood (31), Wilson (30), Davidson (29).
Other Sources
Jedburgh Abbey and the Abbeys of Teviotdale by James Watson Edinburgh 1894.
A collection of articles by George Watson Jedburgh 1908.
Yesterdays in a Royal Burgh by James Lindsay Hilson Jedburgh 1906.
Further Yesterdays in a Royal Burgh by James Lindsay Hilton.
More Yesterdays in a Royal Burgh by James Lindsay Hilton.
The Statistical Accounts of Scotland 1791-99 vol.1 p.1: Jedburgh, County of Roxburgh (click "browse scanned pages" and insert Parish name)
The Statistical Accounts of Scotland 1834-45 vol.3 p.1: Jedburgh, County of Roxburgh (click "browse scanned pages" and insert Parish name)
Two Centuries of Borders Church Life by J Tait Kelso 1891.
School Records
St. John's Episcopal Infant School Log Book 1863 to 1873 (Ref - R/ED/2/43).
St. John's Episcopal Mixed School Log Book 1863 to 1875 (Ref - R/ED/2/44).
St. John's Episcopal School Log Book 1875 to 1905 (Ref - R/ED/2/45).
St. John's Episcopal School admission registers 1897 to 1963 (Ref - R/ED/3/37-38).
Langton School Log Book 1873 to 1919 (Ref - R/ED/2/54).
Langton School Log Books 1921 to 1965 (Ref - B/ED/2/28-29).
Pleasants School Register 1913 to 1974 (Ref - R/ED/3/31-34).
Pleasants School Log Books 1876 to 1974 (Ref - R/ED/2/68-70).
Poor Law Records
Jedburgh Parish General Register of Poor 1852-1893 (Ref - R/PR/1/10/18).
Jedburgh Parish Register of poor persons admitted on the roll 1854-1864 (Ref - R/PR/1/10/17).
The Scottish National Archives, Edinburgh
Census
1831 Jedburgh census. (Ref - CH2/552/44).
Jedburgh Parish Church (Ref - CH2/552)
Proclamations 1855 to 1857.
Proclamations 1857 to 1895.
Minutes 1672 to 1676, 1678 to 1681, 1683 to 1688, 1698 to 1744 1747 to 1768 and 1815 to 1885.
Scroll Minutes 1838 to 1842.
Accounts 1707 to 1730,1737 to 1778, 1809 to 1874 and 1845 to 1886.
Church Collections 1787 to 1833.
Robson Mortification Account 1761 to 1776.
Poor's Fund Accounts 1760 to 1775 and 1778 to 1823.
Testimonials 1727 to 1759 (with gaps).
Communion Rolls 1839 to 1925.
Jedburgh Associate Congregational Church (Ref - CH3/350)
Births 1737 to 1839.
Births 1825 to 1858 and 1892 to 1902.
Births 1856 to 1917.
Congregational and Managers' Minutes 1761 to 1877.
Jedburgh Relief Church (Ref - CH3/351)
Births 1840 to 1917.
Session Minutes 1841 to 1883.
Account Book 1816 to 1851.
Jedburgh Free Church
Baptismal Records - 1812- 1854. (Ref - MR88).
Births 1878 to 1890 (Ref - CH3/1469/15).
Presbytery Minutes 1843 to 1858.
School Records
Jedburgh Burgh and Parochial Schoolmasters' Widows Fund 1824-1872 (Ref - GD342).
Maps
1770 Plan of subjects belonging to John Douglas and Thomas Turnbull, particularly of Middingstead, Highgate St. (Grid Ref - NT6520, NAS Ref - RHP.682)
1814: Sketch of estate of Hunthill. (Grid Ref - NT661,. NAS Ref - RHP.1477)
Newspapers
The following Newspapers were published in Jedburgh;
Jedburgh Gazette 1870-1964.
Jedburgh post 1896 -1906.
Jedburgh Herald 1977-1978.
Hawick Archaeological Society
1869 Trade Incorporations of Hawick, Galashiels and Jedburgh.
1873 Some Jedburgh Characters.
1878 Royalty at Jedburgh.
1901 The Jedburgh staff and axe.
1902 Annals of Jedburgh Castle.
1903 An incident in 1571 and its consequences.
1904 Jethart Justice - enquiry into its origins.
1922 The Capon Tree in Jed Water.
1922 Annual Border Ba' Games.
1923 Foundation of Jedburgh Abbey.
1926 Jedburgh Fair in "Border Fairs".
1927 Queen Mary in Jedburgh October 1566.
1934 Tyranny of the old Trades: some Jedburgh examples.
1934 Postal arrangements with Hawick 200 years ago.
1934 Lowland Bagpipes a Jedburgh Family of Pipers.
1936 Religious Education at an old Parish School.
1937 Queen Mary's House.
1949 Queen Mary's ride to Hermitage.
1958 Act in favour of Fairs and Market at Letham near Jedburgh.
1977 The last "hingin".
1979 Sidelights from a Jedburgh Scrapbook.
1992 List of Voters 1832 Hawick, Jedburgh and Kelso Districts.
1996 Anglo Saxon Jedburgh.
Berwickshire Naturalists' Club
Vol. 4 Jedburgh by A Jeffrey.
Vol. 4 Jeddart Justice by G Watson.
Vol. 7 Jedburgh - its pears by J Tate.
Vols.8 and 31 Jed Forest by W Laidlaw.
Vol. 11 Armorial Bearings by W Laidlaw.
Vol. 22 Jedburgh Gazette.
Vol. 22 Jedburgh Guide Books.
Vol. 25 Ramblers' Club.
Vol. 25 Annals of Jedburgh Castle by G Watson.
Vol 25 Armorial Bearings and interesting inscriptions by W Easton.
Vol. 25 Hilston's Jedburgh one hundred years ago.
Vol. 25 Jethart Worthies by T Smail.
Vol. 30 Jedburgh visited.
Vol. 31 Jedburgh Castle.
Vol. 31 Queen Mary's House by J Renilson.
Vol. 33 The Capon Tree.
Vol. 35 Ba' Game by A Buist.
Websites
Jedburgh Official Website.
Jedburgh on-line.
A 19th Century description of the Town Jedforest RFC Stobie's Map of Roxburghshire of 1770.
The RCAHMS website Scotland's Places contains details of;
Farm Horse Tax 1797-1798.
Medical Officers of Health Reports 1891.
Place and Farm names in Census Records;
1841 census: Jedburgh, Castle Gate, Canongate, Backgate, Townfoot, Pleasants, Bongate, Old Bridge End, Stewartfield, Chapmanside, Boundary Park, Boundaries, Kenmuir, Abbey Bridge End, Hindfield, Honeyfield, Inchbonny, Allars, Castle Hill, Glenburnhall, Bankhead, Cringlebank, Crailinghall, Crailighall Mill, Birneyrig, Cragshiel, Samiston, Renniston, Harden Peel, Nether Wells, Over Wells, Pityme, Thickside, Over Wells, Scraesburgh, Fendiehall, Mossburnford, Kersheugh, Farniehirst Mill, Farniehirst, Lochend, Howden, Hunthill, Todlaw, Lanton, Lantonhill, Slatehouse, Hopehouse, Willies Crook, Monklaw, Timpendean, Lightpipehall, Hundalee, Graypeel, Linthaughlee, Blackburn, Linthaugh, Fair's Houses, Deep Cleugh, Longlee, Gilliestongues, Swinnie, Swinnie Bar, Swinnie Moorfoot, Dunion, Larkhall, Glenburnhall, Lantonpark, Broomhall, Lantonhall, Bonjedd, Sharplaw, Ancrum Bridge, Round Haugh, Jerdonfield, Bonjedward, Mountholly, Woodend, Newmill, Bonjed Mill, Walkersknow, Walkmill, Jedfoot, Union Mount, Ulston, Old Hall, Stewartfield, Edgerston, Rink, Rigg, Camphouse, Camptown, Earlsheugh, Old Jeddart, Tifts, Tofts, Brundenlaws, Shielknow, Lamblairknowes, Arks, Huntford Shaw, Broombanks, Hawse.
1851 census: Jedburgh, Townhall, Old Jale, Paradise Vale, Friars, Anna Cottage, Barracks, Pleasants, Bongate,Old Bridge End, Boundaries, Abbey Bridge, Cannongate, Bongate Mill, New Bongate, Jedbank, Bankend, Hindhousefield, Kenmuir, Allars Bank, Kenmuir, Inch Bonny, Allars Mill, Castle Wood, Glenburn, Annfield, Howden, Hunthill, Thickside, Overwells, Netherwells, Cringle Bank, Crailinghall, Samieston, Berneyrig, Rannieston, Hardenpeel, Scraesburgh, Fendyhall, Mossburnford, Kerrsheugh, Ferneyherst, Lightpipehall,, Hundalee, Hundalee Mill, Todlaw, Lighthaughlee, Lighthaugh, Blackburn, Langlee, Gilliestongues, Swinnie, Moorfoot, Larkhall, Glenburnhall, Glenburn Square, Lanton, East Parks, Wet Parks, Lanton Hill, Lanton Craig, Scleted House, Hopehouse, Monklaw, Broomhall, Weaselton, Timpendean, Broomknoll, Lanton Hall, Lanton Mill, Sharplaw Mains, Sharplaw, Check Bar, Jerdonfield, Bonjedward, Townhead, Jedfoot, Mountholy, Walkersknow, New Mill, Woodend, Old Hall, Ulston, Wester Ulston, Esater Ulston, Pettymee, Wildcatgate, Tofts, Brundenlaws, Shielknows, Lamblair Know, Broombanks, Edgerston Rig, Rink, Camptown, Earlsheugh, Old Jeddart.
1861 census: Hunthill, Howden, Royal burgh, The Prison, Lochend, Annfield, Over & Nether Wells, Cringlebank, Crailinghall, Old Hall, Samieston, Birneyrig, Renniston, Pleasants, Hardenpeel, Scraesburgh, Mossburnford, Kersheugh, Ferniehurst, Todlaw, Scaurs, Lightpipe Hall, Hundalee, Linthaugh, Langlee, Gilliestongues, Swinnie, Larkhall, Glenburn, Lanton Village, Tudhope, Monklaw, Timpendean, Old Hall, Hartrigge, Pityme, Ulston, Mounthooly, Roundhaugh Bonejedward, Cleikhimin Toll, Sharplaw, Bongate, Kenmore, Allar Bank, Inchbonny, Union Poorhouse.
Population
The population has been recorded as follows:
1755 - 5816
1799 - 3288
1801 - 3834
1811 - 4454
1821 - 5251
1831 - 5647
1841 - 5116
1851 - 5475
1861 - 5263

Queen Mary's House, Jedburgh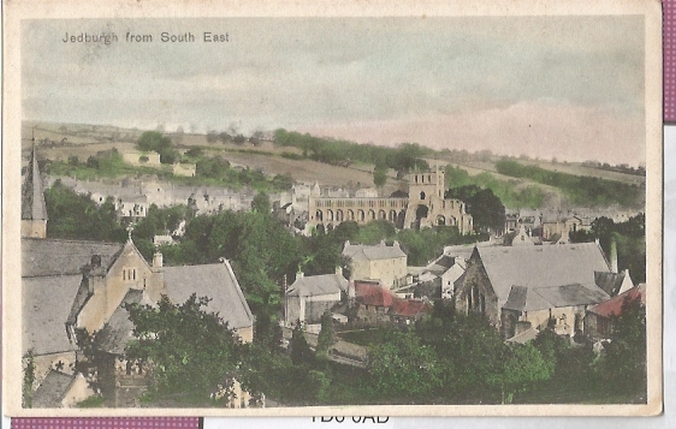 Jedburgh from the South East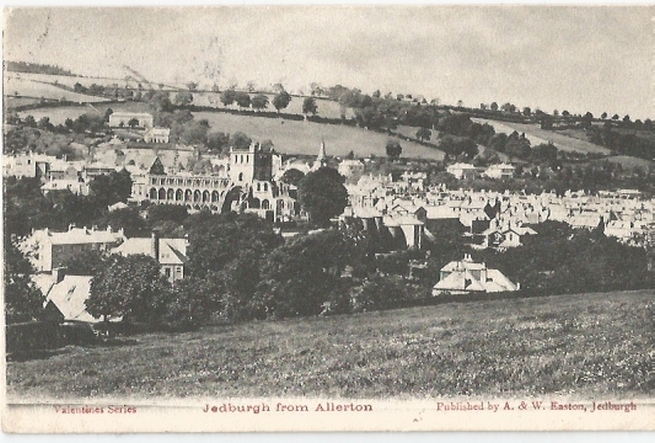 Jedburgh from Allerton (before 1904)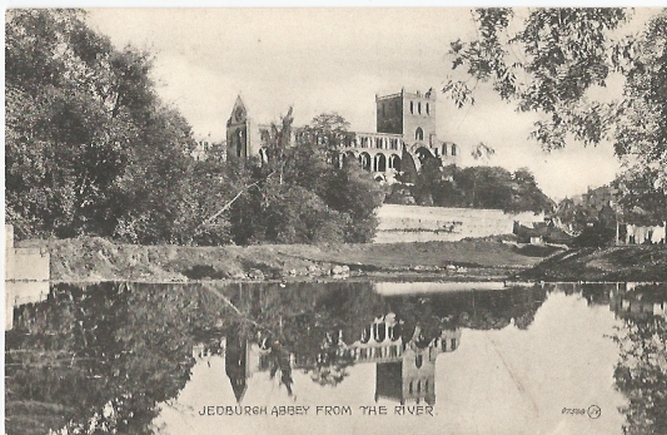 Jedburgh Abbey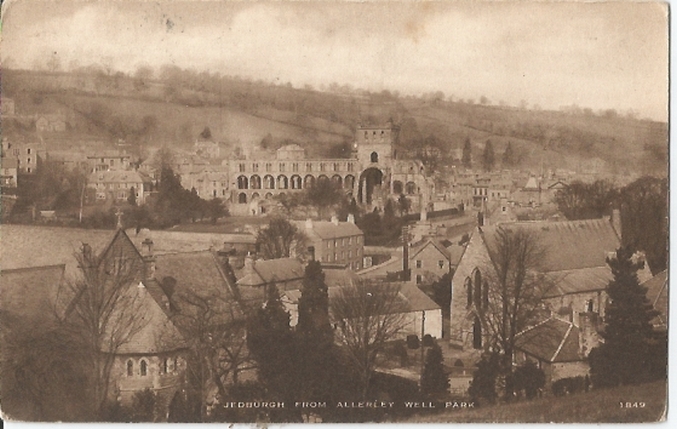 Jedburgh from Allerley Well Park



So far as we are aware, the copyright on these pictures has expired. However, if you wish us to remove the images and you can demonstrate that you hold the copyright, please contact us.