This website uses cookies. To read more about them, click 'cookies stored'. To accept our cookies, click the check box then press 'Continue'.
Borders Family History Society

Our archive and search room is now open on Tuesdays and Thursdays from 10am to 4pm. Keep up to date via our Facebook page and Twitter.
Wilton
Wilton Parish lies on the eastern boundary of Roxburghshire, with the Parishes of Ashkirk and Lilliesleaf to the north, the Parish of Minto on the east, the Parishes of Cavers and Hawick to the south and the Parish of Roberton in Selkirkshire on the west.

The Parish of Wilton a substantial part of the town of Hawick and more relvant source material will be found on the Hawick page. The Parish is now linked with that of Teviothead.

Old Parish Records cover the periods:

Births: 1694 to 1854.
Marriages: 1707 to 1854.
Deaths: 1707 to 1854.

Wilton Parish Church
1841 census Wilton.
1851 census Wilton.
1861 census Wilton.
See our sales list for full details and cost of postage.
Volumes available for consultation within our Archive
Wellogate Cemetery Transcriptions - Hawick Archaeological Society.
St Mary's Churchyard Hawick MI Hawick Archaeological Society.
Companion to Hawick and District by R E Scott.
Hawick Characters by Robert Murray.
Street Names of Hawick by Lilias H Britton.
All these fine fellows by Derek Robertson (WW1 Casualties).
Borthwick Water by Kathleen W Stewart.
After Gallipoli by Gavin Richardson.
The Churches and Graveyards of Roxburghshire by Dr. G.A.C. Binnie 2001.
Rutherford's Southern Counties Register and Directory 1867.
County Directory of Scotland 1912 - Borders Towns and Villages.
Wilton Cemetery Transcriptions - Hawick Archaeological Society
CD-ROM Pigot's 1837 Directory of Berwickshire and Roxburghshire.
CD-ROM Land Ownership Commission Report 1872 -1873.
Magazine Articles
Please note that the heading Author includes persons who have compiled or transcribed records; and that the topics indexed, and the synopses are subjective opinions.
See the Sales List to buy copies of the magazines containing articles in which you're interested.
| Title | Synopsis | Size Description | Issue No | Author |
| --- | --- | --- | --- | --- |
| The Parish of Langlands | The parish of Langlands and the history of old leper hospital at Rutherford. Also the history of Langton that was absorbed into Wilton. | 3 pages or more | 35 | Michael Langlands |
| Stirches Brick, Tile and Pottery Works | A history of the Stirches Brick Tile and Pottery Works (est. 1850 by John Scott-Chisholme), when the tweed and hosiery trade took a downturn. A combination of the growth in the woollen trade bringing people from the Midlands and Yorkshire who needed living accommodation, plus the arrival of the railway in 1849 to bring sandstone for building, seemed an idea that could not fail. Clay for bricks found on the Stirches Estate added to the positive outlook, but the death of Chisholm and increasing competition initiated the demise of the factory which closed in 1873. The account includes site maps and reference to many other accounts and articles at the time and since. | 3 pages or more | 101 | J.G.Macdonald |
| Margaret Douglas, an Ordinary Hawick Woman? | An account of the life of Margaret Douglas and her family and their lives in late 19th. and early 20th. century Hawick. | 3 pages or more | 98 | Kathryn Holloway |

Map of Wilton from UK Great Britain, Ordnance Survey one-inch to the mile (1:63,360), 'Hills' edition, 1885-1903
by kind permission of the National Library of Scotland.
Use the control at the top left of the map to zoom in or out and drag the map left, right, up, or down as you wish.

Map of Wilton from UK Ordnance Survey Historical Maps from 1919-1947
by kind permission of the National Library of Scotland.
Use the control at the top left of the map to zoom in or out and drag the map left, right, up, or down as you wish.
Other Sources
A Sketch of the History of Hawick by Robert Wilson 1825.
The History of Hawick by Robert Wilson (second edition)1841.
Annals of Hawick AD.1214-1814 by James Wilson 1850.
Hawick and its old memories by James Wilson 1858.
Hawick in the early sixties (1860s) by James Edgar 1913 - includes lists of:

Voters in 1861
Rifle Corps Volunteers 1860
Shareholders in Corn Exchange
Burgesses in 1860

Pictures of the Past of Auld Hawick by J. J. Vernon and J McNairn 1911.
Braid Hawick - 'the Hawick dialect' by Elliot Cowan Smith 1927.
Hawick in bygone days by James Turnbull 1927.
Provosts of Hawick 1861 to 1931 by James Edgar 1933.
The Story of Hawick by William S Robson 1945 (revised 1947).
Hawick as it was (photographic record) published by Hawick Archaeological Society and Hawick Camera Club.
The History and Antiquities of Roxburghshire and adjacent Districts by Alexander Jeffrey, 1864.
The Statistical Accounts of Scotland compiled initially between 1791 and 1799, with a subsequent edition between 1834 and 1845 are a valuable record of the geography, history, economy, people and customs recorded by local ministers. You'll need to search for the parish name.
Two Centuries of Borders Church Life by J Tait Kelso 1891.
Wilton Dean School Log Book 1873 to 1913 (Ref - R/ED/2/91).
Wilton Public School Plans c 1883 -1910 (Ref - SBA/59/89-92).
Clarilaw School Admission Registers 1866 to 1942 (Ref - R/ED/3/8).
Clarilaw School Log Book 1867 to 1943 (Ref - R/ED/2/14-16).
The Scottish National Archives, Edinburgh
Wilton Kirk Session Minutes 1694 to 1734 with Poor's Accounts (Ref - CH2/375).
Hawick Old - Proclamations 1855 to 1901 (Ref - CH2.975/7)
Rolls of male heads of families 1840-41 (Ref - CH2/375).
Maps
1829 Plan of Estate of Midshiels (Ref - RHP.3643).
1874 Map of Wilton Common showing owners' names (Ref - RHP.181).
Hawick Archaeological Society
1932 Wilton Bowling Club - a good day out - trip to Newcastleton.
1940 Wilton Mill Fire; Hawick and its people in Victorian times.
Wilton Bowling Club -'a good day oot' - visit to Newcastleton.
1967 Wilton Dean - historic burn.
Websites
A 19th. century account of the Parish.
Stobie's Map of Roxburghshire of 1770 .
Place and Farm names in Census Records
1841 census: Wilton, Stillhouse, Dovemount, Kirkstyle, Gibsnose, Roadside, Pathhead, Damside, Roughheugh, Howlands, Wilton Grove, Roadhead, Salthall, Stouslea, Stirches, Stirchescroft, Northcroft, Heap, Heap Stable, Kippilaw, Greensidehall, Maltsteep, Lockies Hedge, Dean Village, Scaw-mill, Netherhall, Overhall, Borthaugh, Brieryhill, Morrishall, Whitehaugh, Whitefield, Calaburn, Drinkston, Highside, Sunnybank, Tanlaw, Coldhouse, Stintyknowes, Dykenook, Priestrig, Leahead, Howdenburn, Galalaw, Silverbuthall, Stirches, Bunrowfloors, Bunrow, Boghall, Groundestone, Newton Muir, Muirfield, Alton, Calfords, Carilaw, Appletreehall, Lees, Newhouses, Newstead, Newton, Newtonmains, Courthill, Burnhead, Parkhouses, Clarilaw, Burnfoot, Burngrove, Cowhill Park, Brieryyards, Midshields, Littleden, Sandbed.
1851 census: Wilton, Upperdamside, Roadhead, Ladylaw, Salthall, Pathhead, Woodside, Lockie's Edge, Hope Park, Gibbs Nose, Kirk Style, Borthaugh, Brieryhill, Calaburn, Coldhouse, Drinkston, Dyenook, Dean, Greensidehall, Heip, Highside, Kippilaw, Leahead, Maltsteep, Morrishall, Netherhall, Nethercroft, Overhall, Priestrig, Scawmill, Stintyknowes, Stirches, Stouslea, Sunnybank, Tanlaw, Whitefield, Whitehaugh, Wilton Burn,Clarilaw, Courthill,Parkhouses, Burnhead, Appletreehall, Eastlees, Westlees, Newton, Newstead, Newtonmains, Alton, Newhouses, Collfaulds, Muirfield, Newtonmoor, Dearlyburn, Boagghall, Grundistone, Westboonraw, Eastboonraw, Boonrowfloors, Silverbuthall, Howdeanburn, Galalaw, Courthill, Burngrove, Burnfoot, Brieryyards, Midshiels
1861 census: Wilton, Appletreehall Village, Lees, Newton, Newhouses, Alton, Moor field, Dearly burn, Calf Faulds, Clarilaw, Little Dean, Midshiels, Briery Yards, Buicklands, Burn Foot, BurnHead, Park Houses, Court Hill, East Boonrow, West Boonrow, Tandlaw, Boghall, Stintyknows, Dykenook, Stouslea, Stirches, Silverbuthall, Groundiston, Drinkston, Whithaugh Muir, Whitfield, Calaburn, Howdenburn, Galalaw, Dean Village, Scaw Mill, Whitehaugh, Brieyhill, Wilton Burn, Borthaugh, Branxholm Woodfoot, Overhall, Netherhall, Wilton Lodge, Wilton Village.
Population
The population has been recorded as follows:
1755 - 936
1795 - 1215
1801 - 1307
1811 - 1500
1821 - 1661
1831 - 1866
1841 - 1867
1861 - 3357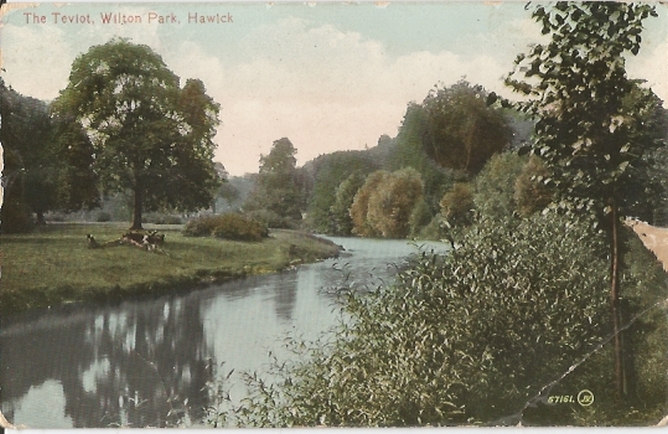 Wilton Park, Hawick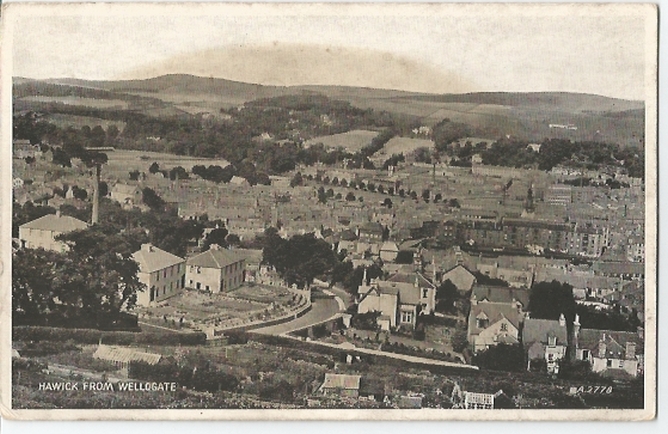 Hawick from Wellogate



The Tweed, Wilton Park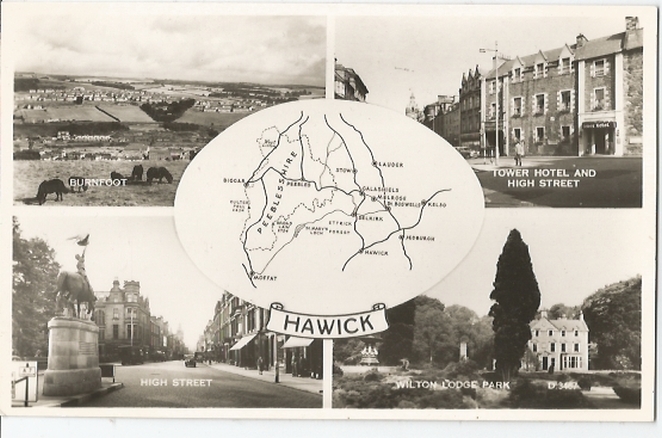 Burnfoot and Wilton Lodge Park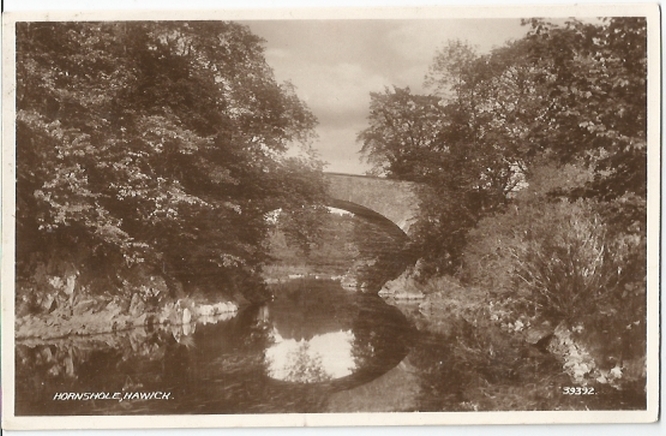 Hornshole. Hawick



So far as we are aware, the copyright on these pictures has expired. However, if you wish us to remove the images and you can demonstrate that you hold the copyright, please contact us.