This website uses cookies. To read more about them, click 'cookies stored'. To accept our cookies, click the check box then press 'Continue'.
Borders Family History Society

Our archive and search room is now open on Tuesdays and Thursdays from 10am to 4pm. Keep up to date via our Facebook page and Twitter.
Cavers
Cavers is situated in south east Roxburghshire. To the north lie the Parishes of Minto and Ancrum, the Parishes of Bedrule and Hobkirk lie to the east, whilst on the south lies the Parish of Kirkton and the Parishes of Hawick and Wilton are on the west. The ecclesiastical Parish of Cavers is now linked with Kirkton and Hawick Trinity

Old Parish Records cover the periods:

Births: 1694 to 1854.
Marriages: 1695 to 1754 and from 1780 to 1841.
Deaths: 1781 to 1854.

Denholm Church
1841 census Cavers.
1851 census Cavers.
1861 census Cavers.
Memorial Inscriptions Cavers and Kirkton (volume 19 Roxburghshire) edited by Jean Sanderson 2005 includes:

Hearth Tax List
Militia List
List of Ministers
War Memorial transcriptions
See our sales list for full details and cost of postage.
Volumes available for consultation within our Archive
The Churches and Graveyards of Roxburghshire by Dr. G.A.C. Binnie 2001.
Rutherford's Southern Counties Register and Directory 1867.
County Directory of Scotland 1912 - Borders Towns and Villages.
CD-ROM Pigot's 1837 Directory of Berwickshire and Roxburghshire.
CD-ROM Photographs of Memorial Inscriptions Kirkton Churchyard.
CD-ROM Land Ownership Commission Report 1872 -1873.
Magazine Articles;
Please note that the heading Author includes persons who have compiled or transcribed records; and that the topics indexed, and the synopses are subjective opinions.
See the Sales List to buy copies of the magazines containing articles in which you're interested.
| Title | Synopsis | Size Description | Issue No | Author |
| --- | --- | --- | --- | --- |
| A quest for Scottish Roots in the Middle Marches | This article was first printed in the Laidlaw Family Journal of October 1995 and has been reprinted in this issue. | 3 pages or more | 31 | Kenneth Laidlaw |
| William Elliot, Architect | The family history of William Elliot and descriptions of some of the fine house's he built. | 3 pages or more | 15 | Kathleen Stewart |
| The Life and Family of Dr. John Leyden | Enthralling biography of the famous polymath (minister, surgeon, judge, linguist, poet and naturalist) who lived from 1775 to 1811. | 7 pages or more | 45 | Marjory Gavin |
| Hobkirk/Hopkirk | Report on research into the name Hobkirk/Hopkirk. | less than 1 page | 96 | Glenys Bollard |
| Selkirk Migrants 1850--1865 | A list of emigrants from Selkirk to various parts home and abroad, from the diary of the minister of Selkirk Parish Kirk. | 2 pages or more | 9 | Alison Scott |
| The relationship of place names and personal names | The relationship is two fold: (1) Place names derived from personal names, (2) Personal names derived or adopted from place names. | 1 page or more | 21 | Jessie Macdonald |
| The Ainslies--Some notes | The name Ainslie, from 1066 onwards, a full and detailed family history. | 1 page or more | 8 | Violet Jardine |
| Cavers & District | Talk given in February 2007 about the history of the kirk and parish of Cavers, and its links with Melrose, St Cuthbert, and other famous people. | 6 pages or more | 64 | Jean Muir |
| More Canadian Intimations in the 'Hawick Advertiser' | Deaths (1863-1864) extracted from the "Hawick Advertiser" of people connected to the Borders, and other places in southern Scotland. Continued from issue 40. | less than 1 page | 43 | Marjory Gavin |

Map of Cavers from UK Great Britain, Ordnance Survey one-inch to the mile (1:63,360), 'Hills' edition, 1885-1903
by kind permission of the National Library of Scotland.
Use the control at the top left of the map to zoom in or out and drag the map left, right, up, or down as you wish.

Map of Cavers from UK Ordnance Survey Historical Maps from 1919-1947
by kind permission of the National Library of Scotland.
Use the control at the top left of the map to zoom in or out and drag the map left, right, up, or down as you wish.
20 Most Common Surnames
The 20 most common surnames on gravestones recorded by us in the Cavers & Kirkton (including Denholm) monumental inscriptions volume are (number of gravestones in brackets): SCOTT (94), TURNBULL (52), OLIVER (36), MURRAY (31), LITTLE (27), DOUGLAS (24), ELLIOT (23), DAVIDSON (20), WILSON (20), ANDERSON (18), YOUNG (17), ARMSTRONG (17), THOMSON (16), SMITH (16), BELL (15), HENDERSON (14), LAIDLAW (13), TAIT (12), BROWN (12), AMOS (12).
Other Sources
Denholm; a history of the Village by Margaret Sellar Denholm 1989.
The Statistical Accounts of Scotland 1791-99 vol.17 p.89: Cavers, County of Roxburgh (click "browse scanned pages" and insert Parish name)
The Statistical Accounts of Scotland 1834-45 vol.3 p.425: Cavers, County of Roxburgh (click "browse scanned pages" and insert Parish name)
Sir James A.H. Murray 1837 - 1915 first editor of the Oxford English Dictionary - born Denholm, The Berwickshire Naturalists' Club Vol. 50.
Two Centuries of Borders Church Life by J Tait Kelso 1891.
School Records
Cavers Kirkton School admission registers 1890 to 1939 (Ref - R/ED/3/5).
Cavers Kirkton School Log Books 1900 to 1939 (Ref - R/ED/2/10-11.
School Board Minute Books 1874 to 1922 (Ref - R/ED/1/14-16).
Cogsmill School Admission register 1873 to 1961 (Ref - R/ED/3/9-10).
Cogsmill School Log Book (Ref - R/ED/2/).
Denholm School Board Minute Book 1873 to 1947 (Ref - R/ED/1/20).
Letter of Sir Archibald Douglas re. a school 1659 (Ref - SC/R/49).
The Scottish National Archives, Edinburgh
Cavers Parish Church
Minutes 1758,1765, 1769 to 1782, 1784 to 1791 and 1824.
Accounts 1758 to 1957 Ref - CH2/1118).
Map
Plan of Edderstoneshiels and Edderstonlee 1846 (Ref -RHP.1435).
Hawick Archaeological Society
1863 Denholm - historical sketch.
1904 Douglas, Percy and the Cavers ensign.
1908 John Scott of Denholm - a distinguished naturalist.
1911 Field Day at Minto, Denholm and Cavers.
1913 The History and Antiquities of Cavers by J.A.H. Murray.
1933 An Old Denholm Book by William F Cuthbertson.
1938 Denholm and its Memories by John W Turnbull.
1946 The Kirks of Cavers by George Watson.
1948 Dunion and Ruberslaw.
1952 Demolition of Cavers House.
1960 William Deans Denholm poet - weaver of rustic rhymes.
1973 Old Churchyard tombstone inscriptions.
1984 Stocking shop at Denholm.
1985 Denholm to India in 1879 - a piece of postal history.
1989 A short account of Denholm 50 years ago.
Websites;
Denholm Village Site contains a history of the Town.
Cavers - A one name study a study into the name Cavers.
Stobie's Map of Roxburghshire of 1770.
The RCAHMS website Scotland's Places contains details of;
Farm Horse Tax 1797-1798.
Medical Officer's of Health Reports 1891.
Place and Farm names in Census Records
1841 census: Denholm Village, Fast Castle, Dykes, Spittal, Blaweary, Todlaw, Little Cavers, Asybank, Whitrigs, Kininghall, Trow Mill, Cavers, Westmiddle, Deanbrae, Coldmill, Orchard, Westcote, Ormistone, Hummelknows, Collifordhill, Cogsmill, Stobs Castle, North Berryfell, South Berryfell, Earlside, Shankend, Penchrise, Priesthaugh, Houdshall, Skelfhill, Broadhaugh, Phaup, Binks, Hendersons Know, Shuttlehall, Gladsnest, Northhousehaugh, Moozieknowe, Linhope, Mosspaul, Wisp, Limeycleugh, Blackwater, Castleweary, Carlenrig, Merrylaw.
1851 census: Cavers, Denholm, Westergatehall, Denholm Mill, Teviothaugh, Woodside, Dean, Spittal Bar, Spittal, Fastcastle, Dykes,Blaweary, Dykes Muir, Tower, Ashiebank, Honeyburn, Little Cavers, Denholm Hill, Todlaw, Whitriggs, East Middle, Cavers Mains, Deanbrae, Birnieknow, Westmiddle, Shiplawcross, Knows, Kininghall, West Cot, West Middle, Little Cot, Trow Mill, Coldmill, Orchard, Ormston, Ormiston, Ormeston, Whitacres, Kaimend, Hubknows Mill, Hummilknows, Hummil Mill, Hummilmillknow Haugh,Coliforthill, Sunnyside, Earlside, Cogsmill, Stobs, Elliottfield, Penchrise, Peelbraehope, Hawkhass, Stanishope, Longsidebrae, Shankend. Shankend Shiel, Limekinnedge, Berryfell Gap, South Berryfell, Berryfell Plain, North Berryfell.
1861 census: Cavers, Denholm, Spittal, Dykes, Blaweary, Dykesmuir, Ashybank, Little Cavers, Honeyburn, Woodside, Denholmhill, Todlaw, Whitriggs, Deanhead, East Middle, Cavers Mains, Deanbrae, Birnie Knowe, Cavers Knowes, Cavers Wood, West Middle, Kinninghall, West Cote, Spear Bank, East Cote, Trow Mill, Trow Knowes, Coldmill, Orchard, Ormiston, Loughend, Kaimend, Sunyside, Whitacres, Hankimshaugh, Hummelknowes, Coliford Hill, Todlands, Coggsmill, Stobs, Elliotsfield, Penchrist, Longsidebrae, Peelbraehope, Stenishope, Limekilnedge, Shankendshields, Shankend, Berryfell Gap, South Berryfell, Berryfellplain, Earlside, North Berryfell, Coggsmillgatle.
Population
The population has been recorded as follows:
1755 - 993
1794 - 1300
1801 - 1382
1811 - 1402
1821 - 1504
1831 - 1625
1841 - 1709
1861 - 1824.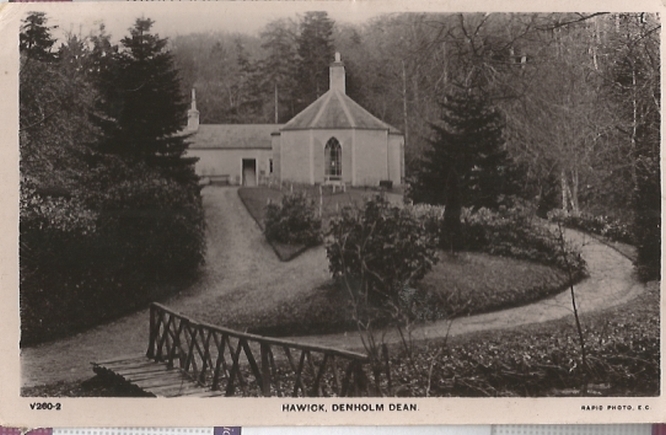 Denholm Dean (before 1908)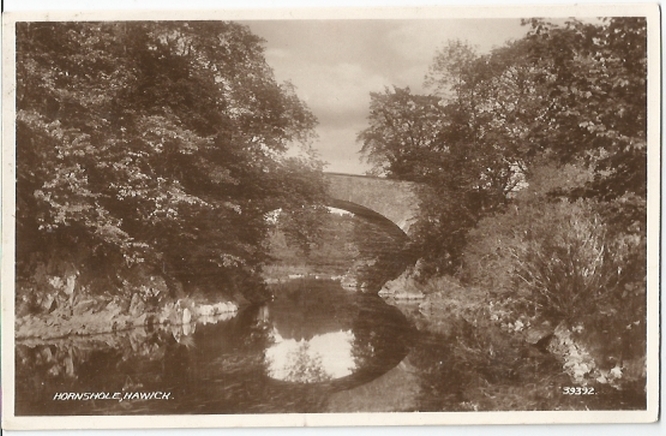 Hornshole. Hawick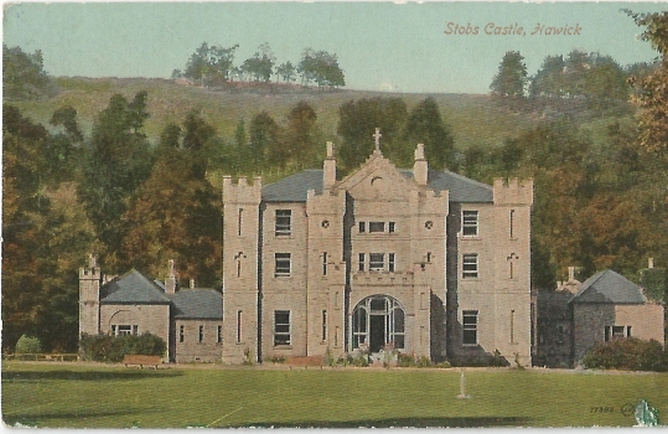 Stobs Castle



So far as we are aware, the copyright on these pictures has expired. However, if you wish us to remove the images and you can demonstrate that you hold the copyright, please contact us.