This website uses cookies. To read more about them, click 'cookies stored'. To accept our cookies, click the check box then press 'Continue'.
Borders Family History Society

Our archive and search room is now open on Tuesdays and Thursdays from 10am to 4pm. Keep up to date via our Facebook page and Twitter.
Roxburgh
Roxburgh Parish is situated towards the north east of the County of the same name and is bounded on the north-west by the Parish of Makerstoun on the north-east by the Parish of Kelso, on the south by the Parishes of Eckford and Crailing and and on the west by the Parishes of Ancrum and Maxton. The parish includes the village of Heiton and the manor of Fairnington.

Once a royal burgh; in the Middle Ages it rivalled Edinburgh, Stirling, Perth, or Berwick-upon-Tweed in importance and as as royal residence of David I it could have been considered the Capital of Scotland. It occupies an easily defensible site between the Rivers Tweed and Teviot and remains of the Roxburgh Castle can still be seen on a mound opposite Floors Castle. This part of the medeival parish of Roxburgh is now incorporated into the Parish of Kelso.

Roxburgh is now one of the Kelso Country Churches - the others are Makerstoun, Nenthorn, Smailholm & Stichill - which is linked with Kelso Old Parish Church & Sprouston.

Old Parish Records cover the periods:

Births: 1624 to 1760, 1702 to 1854.
Marriages: 1654 to 1794, 1801, 1826, 1849 to 1854.
Deaths: 1783 to 1812, 1854.

Roxburgh Parish Church.
1841 census Roxburgh.
1851 census Roxburgh.
1861 census Roxburgh.
Monumental Inscriptions Roxburgh Vol 9 Roxburghshire (second edition) 2000 by Elspeth Ewan - includes:

A history of the Parish
Hearth Tax
Militia List
List of Ministers
War memorial transcriptions
See our sales list for full details and cost of postage.
Volumes available for consultation within our Archive
The High Toun on The Hill by Ian Abernethy.
The Churches and Graveyards of Roxburghshire by Dr. G. A. C. Binnie 2001.
Rutherford's Southern Counties Register and Directory 1867.
County Directory of Scotland 1912 - Borders Towns and Villages.
Roxburghshire 3rd. Statistical Account Vol 28 by John Herdman.
CD-ROM Pigot's 1837 Directory of Berwickshire and Roxburghshire.
CD-ROM Land Ownership Commission Report 1872 -1873.
Magazine Articles
Please note that the heading Author includes persons who have compiled or transcribed records; and that the topics indexed, and the synopses are subjective opinions.
See the Sales List to buy copies of the magazines containing articles in which you're interested.
| Title | Synopsis | Size Description | Issue No | Author |
| --- | --- | --- | --- | --- |
| Letters of Slains 1569 - A family puzzle | An intriguing tale of death and complaint in 1569. | 2 pages or more | 12 | Jean Smithers |
| Roxburgh Police Instruction Book | Book review. Author: William Everitt (Chief Constable of Roxburgh County). "Orders Regulations and Instructions framed and issued for the government of the Roxburgh County Police". 1858. The reviewer lifts instructions from the book describing the law, but also some insight into Borders life at that time. | 1 page or more | 108 | Ronald Morrison |
| Local TS Royal Edward KOSB casualties | A list of KOSB casualties. (Additional names and places - William Hogg - Hawick. Also Dumfries and Galloway names - Archibald Strong - Johnstone, Francis Head Cameron - Whithorn, James Dickson + James Gordon - Kirkbean, James Kirkpatrick - Twynham, John McCaig - Port William, Joseph Hunter McMunnies - Tynwald, Joseph Melvin - Glasserton, Matthew Bryson Richardson - Lochmaben, John Telford + Robert Trodden - Annan. | 1 page or more | 101 | Jared Squirrell |
| Robeson descendants in Roxburghshire & Berwickshire | Andrew Robeson was born in Kelso (1640), with 4 siblings Thomas, David, James and Janet, was a wool and linen merchant and a Quaker and was imprisoned in Duns and Edinburgh for that reason in the 1660s. He went to America, via Clonmel, Ireland and established the earliest township in Philadelphia, and called it Roxburgh.His grandson Thomas was heavily involved American Revolution in North Carolina, and Robeson County was named after him. Robesone, Robison, Robson and Robertson make tracing this family a challenge. | 1 page or more | 102 | Editor |

Map of Roxburgh from UK Great Britain, Ordnance Survey one-inch to the mile (1:63,360), 'Hills' edition, 1885-1903
by kind permission of the National Library of Scotland.
Use the control at the top left of the map to zoom in or out and drag the map left, right, up, or down as you wish.

Map of Roxburgh from UK Ordnance Survey Historical Maps from 1919-1947
by kind permission of the National Library of Scotland.
Use the control at the top left of the map to zoom in or out and drag the map left, right, up, or down as you wish.
20 Most Common Surnames
The 20 most common surnames on gravestones recorded by us in the Roxburgh monumental inscriptions volume are (number of gravestones in brackets): SCOTT (21), HOPE (18), LAIDLAW (13), HENDERSON (13), HOGG (12), TURNBULL (12), KERR (10), ROBERTON (10), RICHARDSON (9), ROBSON (8), BROWN (8), BELL (8), JOHNSTONE (8), ARMSTRONG (7), HAY (7), TAIT (7), WALKER (7), GRAY (7), SMITH (7), RUTHERFORD (6).
Other sources
School Records
Fairnington School Log Book 1913 to 1940 (Ref - R/ED/2/21).
Heiton School Registers log book photos etc. 1882 to 1993 (Ref - R/ED/18/1-6).
The National Archives of Scotland, Edinburgh
Roxburgh Parish Church (Ref - CH2/314)
Births 1855 to 1867 (Ref - CH2/314/6).
Minutes 1704 to 1746. 1753 to 1760 and 1831 to 1926.
Accounts 1722 to 1780.
Roxburgh Friendly Society of Parochial and Burgh Schoolmasters
Minutes 1811 to 1840 (Ref - GD 342).
Map
Ferningtoun Moss 1770 (Ref - RHP.4192).
Hawick Archaeological Society
1874 Roxburgh Castle.
1923 Survey.
Berwickshire Naturalists' Society
Vol 4 Roxburgh by J Stuart.
Vol 4 Roxburgh - the Burgh by T Craig.
Vol. 8 Roxburgh - the name.
Vol. 32 History of Roxburgh by C. H. Hunter.
Vol. 37 Roxburgh Castle by G. W. Bennet.
Websites
The Village Website.
The Heiton Village Website.
Floors Castle and Roxburghe Estate Site.
The ITV Channel 4 programme Time Team excavated Ancient Roxburgh in 2004
Stobie's Map of Roxburghshire of 1770.
The RCAHMS website Scotland's Places contains details of;
Farm Horse tax 1797-1798.
Medical Officer's of Health Reports 1891.
Place and Farm names in Census Records
1841 census: Pirnie-hall, Fairnington, Mossend, Newtown, Cairnmount, Stockstruther, Roxburgh Mains, Trows, Susanfield, Friars, Waterdykes, Over Roxburgh, Kersmains, Roxburgh Village, Farm of Barns, Sunlaws, Whithillfoot, Ladyrig, Craigrig, Heiton Village, Doghill, Highton East Mains.
1851 census: Fairnington, Barns, Kersmains, Trows, Red Stead, Waterdykes, Newton, Stockstruther, Cairn Mount, Friars, Doghill, Ladyrig, Craigrig, Heiton, Whitehillfoot, Sunlaws Hill, Over Roxburgh, Castle Innes, Moorhouse.
1861 census: Barony of Fairnington, Over Roxburgh, Kersmains, Barns, Friars, Trows, Newtown, Stockstruther, Heiton Village, Ladyrig, Craigrig, Doghill, Sunlaws, Whitehillfoot.
Population
The population has been recorded as follows
1755 - 784
1801 - 949
1811 - 946
1821 - 926
1831 - 962
1841 - 979
1851 - 1141
1861 - 1178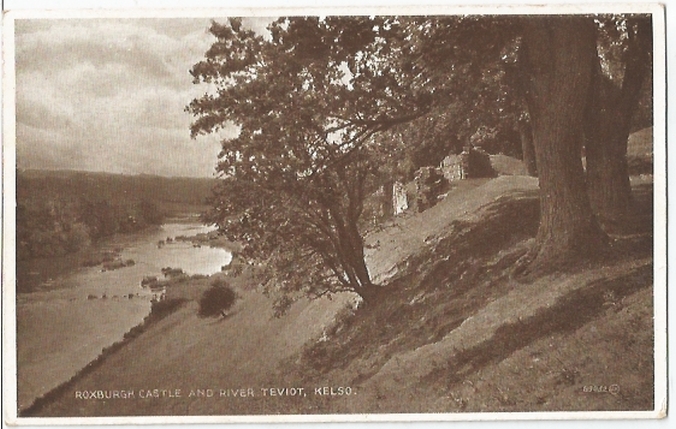 Roxburgh Castle



So far as we are aware, the copyright on these pictures has expired. However, if you wish us to remove the images and you can demonstrate that you hold the copyright, please contact us.